products/multi-purpose-folding-shovel-2gg-667329.jpg

products/multi-purpose-folding-shovel-2gg-116971.jpg

products/multi-purpose-folding-shovel-2gg-398419.jpg

products/multi-purpose-folding-shovel-2gg-618161.jpg

products/multi-purpose-folding-shovel-2gg-612474.jpg

products/multi-purpose-folding-shovel-2gg-295922.jpg

products/multi-purpose-folding-shovel-2gg-316385.jpg
Regular price

$59.99 USD

Sale price

$50.99 USD
Twenty-three functions. One do-it-all solution.
When it comes to rigorous garden work, tree work, or surviving the great outdoors, the last thing anyone wants is burden. And that burden can not only be unexpected weather conditions and steep hills, but also a heavy load of tools and utensils to bring. From multiple shovels to choppers and hammers, sometimes you almost need to carry a fully-loaded toolbox with you. When armed with our Multi-Purpose Folding Shovel, you won't have that issue anymore. Do everything with one tool that folds and has detachable parts for just as much functionality in much less space.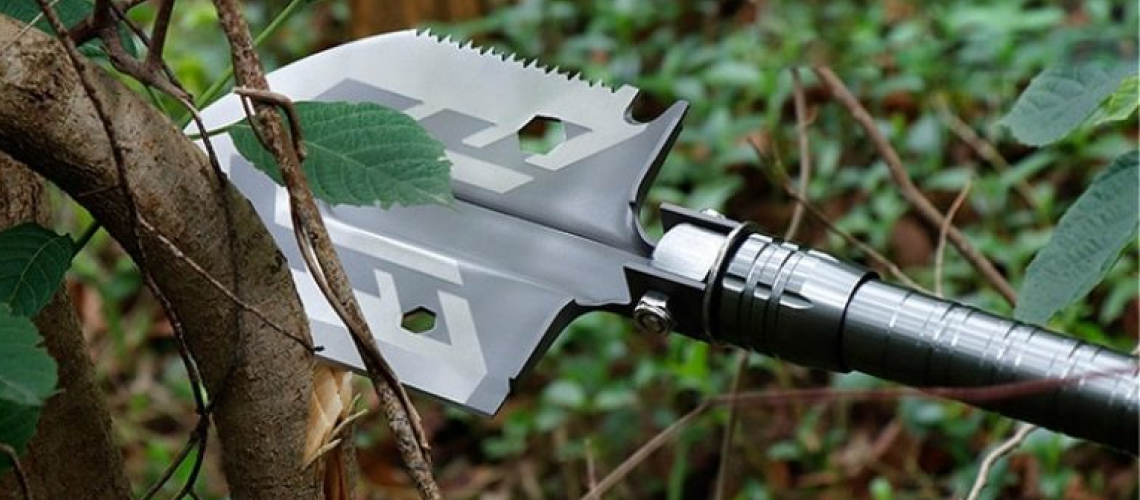 You get all of this (in one tool)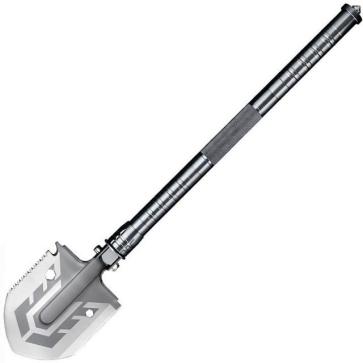 180 degrees of use
All attachments are foldable up to 180 degrees to assist with tasks at any angle. No need for multiple tools. Adjust and get to work to handle anything.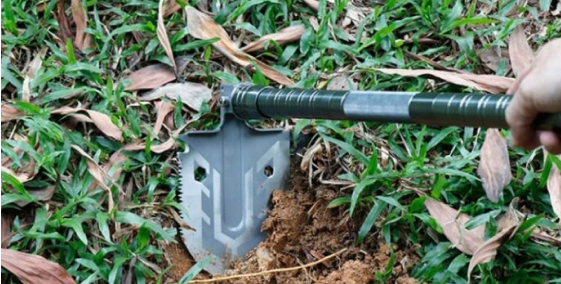 Made tough for heavy duty work
Our Multi-Purpose Folding Shovel is forged from Manganese steel and 404 stainless steel for a tough-as-nails build that can handle tough digging and trenching, all without falling apart.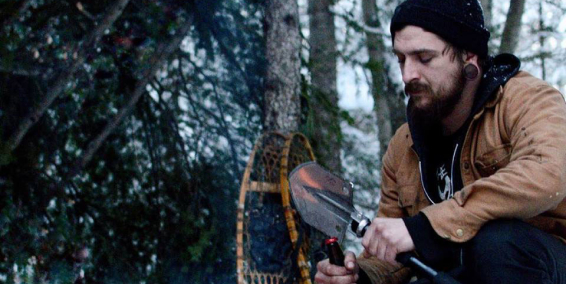 Scale up or down
This wonder tool extends fully to 29 inches in length, weighs just 1.94lbs, and is fully adjustable to any length in between so anyone of any build and height can safely carry and move this multi-use shovel with ease. When fully folded, our Multi-Purpose Folding Shovel measures 9 x 6.5 x 1.8 inches for easy, compact, on-the-go use.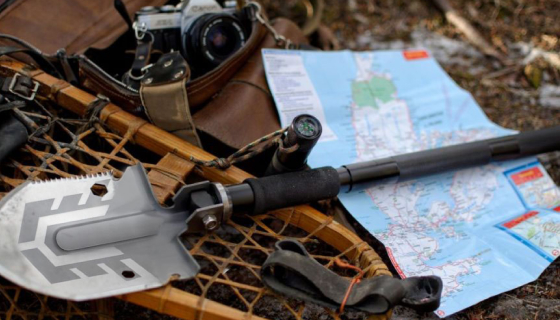 It can ensure your survival
In the case of a dangerous downpour on a camping trip or roadside emergency, the many uses of this shovel can save a life.
Protective layer on magnesium rod handle that can start a fire when scraped with a blade
Emergency whistle to signal for help
Rope cutter to free trapped seatbelts
Bladed shovel and knife attachment head to fight off danger
Reviews
Our reviews are verified for authenticity
This shovel is far sturdier than I imagined. While I probably would not add it to my backpack for hiking it is a great addition to the camping gear. Had decided to give it as a gift to my nephew but my husband insist we keep it. Great tool with valuable extras even for the car.

I saw this and it piqued my curiosity, so I figured since I can blow 40 bucks on dinner, I'd give it a shot. I was honestly surprised at the sturdiness of the handle and blade. Not too sure about the knife, it may get you out of a pinch once or twice, but I don't really care about that, I've got my real knife and tools in the bug out bag already. But the actual shovel part itself I felt was definitely worth the money.

I absolutely love it! I thought i wouldn't need it that much unless I was camping or shoveling..but, i used it a couple times already after just receiving it a few days ago for screwing a new cargo carrier together and the knife for cutting up thick card board for recycling.

This is one of those purchases that you think is really cool and super awesome and you would be right. Really study, I like the weight to it. Its such a awesome tool to take camping or just you know, killing zombies, lol. It's really cool!

This thing is heavy and is made like a tank. I'm not going to complain because it was built to last. I purchase this to use while out camping and hiking which this item might be too heavy for my backpack. Other than it weight, it's a good product and does what is advertised.

Bang for the buck on a multi-tools plus a shovel. Must have tool for camping. Everything fits snugly inside once assembled, no worries about missing something might comes handy. Very sturdy for what it is, thick enough to handle to heavy weight, possibly could use as a leverage too.

Seems legit has a good study feel to it could def be useful good length when together! Does really have multiple uses decent weight not to heavy if you're gonna put it on ur tac bag overall decent product

Our family likes to go camping and hiking and I have to admit, Im drawn to multifunctional tools like this. This one possibly does more then I will ever need or use but it's nice to know the option is there. This tool is made out of a sturdy steel. It's lightweight enough it doesnt weigh down your backpack and weighs less then 2lbs. It measures 9 * 6.5 * 1.8 inches when folded up and extends to 29".

I love this little shovel. Its compact like many other, but i like i change the length, i took the shovel out to the garden and played with it. It works wonderfully, it chops, and cuts. Im putting it the vehicle and will be using it camping

I was a bit skeptical when I ordered this but when I unboxed it, I was shocked at the quality of it! We will be using this entire tool while camping and hiking. It packs easy with all of it's multiple tools with it.

Heavy duty! Don't believe the bad reviews! Just don't go crazy with the knife spear attachment. This thing has serious mass to it! It comes with a Phillips and flat head attachment,it has a saw, a fire starting flint that actually works, and a shovel that has triple uses. One use is as a chopping axe, a saw, & of course a shovel and a hoe! And it even has two spots to be able to tighten or loosen bolts, of course they would have to be away from any blocking obstacles. And it also has a glass breaker at the end of the handle, a whistle. I believe it has one more uses but it skips my mind at the moment. Obviously this can be used as a weapon in a couple of different ways. Oh yes, it looks like it has a couple of bottle openers. I have yet to use it but because of its sheer girth and mass it's seems to be heavy duty enough to do extreme jobs and the grooves for screwing the handles on and off seem to be machined very well!

Revised review, moved from 3 stars to 5 stars. Good compact shovel. Knife is so well hidden I thought it wasnt included. After a few weeks and some use heard some rattling, opened her up and Knife. 5stars never leave home without it.

This is a pretty cool shovel! When I ordered it I was thinking it would be smaller than I expected, but it's a standard survival shovel size. The tools tucked away in the handle are super useful. I carry it to help with foraging, keep it in my truck (weekend camper) for odd jobs, and keep it around for bugout purposes. I'm pretty happy with it.

Bought this thing for emergency for my bug out bag. Had it in the back of my jeep and just happened to get stuck in the snow right as a blizzard was blowing in. This thing was easy to put together and a absolute amazing tool in a pinch. It definitely saved my booty that day.

This shovel is the perfect add on to any Jeep, truck, farm, or camping set up. There are so many tools with it and it all compacts very nicely. Love all of the tools and how well they screw in together to make a long shovel handle. Would recommend to anyone.

Great for camping. Very strong and sturdy.

Great product for the price. Compact and sturdy. Comes in handy when camping or stuck in wildernesses.

Here you see the shovel in its spear configuration. I'd say this is probably the most intimidating weapon configuration. The shovel itself has a blade on one side but it lacks intimidation because it just looks like an ordinary shovel. I think if you wielded the spear blade in self-defense you can avoid a confrontation altogether. Shy of them having a gun you would clearly have the reach advantage. The shovel has several other tricks up its sleeve in terms of hidden weaponry. As far as a shovel goes...well it does that too which was the original intent of this purchase.

This little kit packs alot of different tools into one. If you are an outdoors person like I am, this is a must have. Perfect for camping, overlanding, off roading or anything in between. The quality and value can't be beat. This is a must have!

Great camping/compact shovel. Very sturdy. The accessories are good and the shovel itself is great. I Would have given it 5 stars. I am impressed with the shovel, overly thrilled with the other accessories (knife, fire striker)

So I've been watching these videos all the time and not by choice.lol. they looked incredible but like most things you see advertised online constantly is usually poor quality. This product I must say is really nice. Now that I've had it in my hands playing with it I feel as though I want to go camping and build stuff .lol. the tiny box it came in made me kinda laugh and think omg what's this. I guess I was expecting a box with a fully assembled tool in it. It was a nice surprise to see the sheath it comes with and how compact this thing can be. I can literally fold it and shorten it and put it in my glove box .

looks exactly how it described, good quality, will buy order from here again

This thing helped me survive my snowy camping trip. I was hammering stakes into the snow and taking them out when I was ready to leave. The blade is very sharp and does cut thru branches just like on the video. I don't want to try and cut thru a brick because I want to keep it sharp. Whoever was talking crap about the carrying case is a moron. The carrying case was very well made and a very nice touch.

This thing is built to last!! The quality of it is so nice and it feels indestructible! All the tools inside are good quality and useful! It's definitely worth it and I highly recommend! I love it! Just remember the knife is inside one of the pieces and you have to tap it out. Customer service is great!

This survival tool is seriously awesome. It's easy to assemble and has multiple uses. I can start a fire using the Flint and dig a hole for the fire to sit in too. It's easy to assemble and great quality. It's nice and solid so it should have no problems holding up to whatever we subject it to, and for the price you can't beat it. Happy campers here

Bought to add to our camping gear. It's a great set. Very sturdy and well made. All the items fits into each other for one piece or can be used separately for multiple tools and it all fits into a bag that comes with the set that can be tethered to a backpack or nicely organized in a container.

My trusty tri-fold shovel won't stay straight anymore, so I was in the market for a new shovel. I do a lot of dispersed camping and you know what that means! I dig a hole at least once a day. This shovel has been perfect so far - very sturdy and due to the rubber washers it stays solid when in use. I tried the farro rod (or flint and steel) and it makes a great spark. Overall, very decent product. Looks cool too.

Got this for my brother who loves to camping. Such a cool gadget.. Although the mixed reviews had me torn - I decided to try for myself.. very happy I did, such an awesome gift idea.. he loves it, it's sturdy durable and easy to use.. Ultimate survivors kit. Compact and easy to store away. Has come in handy many times already.. very happy with this purchase, worth the price!

I like this product! Shipping is very fast! Quality super!

I just recieved this this shovel so I can't attested for its functionality and durability. However I am impressed with its quality for its price! It all threads together snugly and will clearly be a useful and durable tool.

We like outdoor and a lots of outdoor activities. This is a perfect tool for us to have. It very compact, Sturdiness, and convenient tool. Very useful for outdoor. Definitely will recommend.

This shovel can literally do everything! My husband has been wanting one and I am glad we got this one . It is made extremely well. Very sturdy. Not made of cheep materials. I highly recommend it.

Never know what you are missing until you get this shovel! It is so handy to have around the home. Seems to be very well constructed. It has so many hidden features. Versatile for garden and camping. I expect this to last me for many, many years.

We were a little bummed that the bag it came with was black instead of camo but that's the worst thing we can say about it for now. Hubby put it together and played around with it. Now he can't wait until we go on our next ride to give it a try.

I bought this for my husband. He loves it. Its not that light but it is durable. The durability makes up for it being heavyweight. Would definitely purchase more

Bought this for a birthday present for my father. He loves his survival equipment and he didn't have a shovel for his backpack. He loves it.

This shovel is awesome for the price I've used everything and no complaints

Okay, so overall this product met my expectations. I wanted something durable, but not too expensive. I came across this particular product and liked what I saw. It comes with a pouch so it can be carried more conveniently. The only problem I found was the compass. The compass only works at a certain angle. I don't know if it's just a bad design, but I wouldn't depend on it. I am overall happy though. I still haven't taken it out, but I intend to put it to use soon.

I was impressed with the overall product; it was lightweight, a lot sturdier than I expected, and very easy to assemble. I used it as a chopping tool for firewood while camping and it worked great! Thanks to the seller!

I love how compact it gets. I have not used it extensively yet but so far so good. It is indeed able to cut rope easily and dig a small fire pit. I will be buying one for every vehicle.

The product came quickly but is missing the top part of the handle. However, it appears to be a great product.

Product was as described it worked great. It was easy to take apart and little more difficult to put back together but once you learn how... it works great!

I'm surprised with how sturdy it feels. And water proof gaskets on each section is a nice touch. The knife is much smaller than it looks in the pictures, but still a useful tool. Thanks!

This is a great all in one tool! I go fishing all the time and this is great for making your way through the wilderness. It's great to find bait. Feels incredibly sturdy! I recommend it!